3. DIAMOND SILVER BRAZED SAW BLADE
(FOR WET CUTTING)
金刚石高频焊接锯片
Brazing is a commonly used technology in producing diamond discs. The segment is bonded tightly to the steel base by brazing under high-frequency electrical current.
It features fine quality and attractive price, and is an excellent substitution of laser welded cutting discs.
Used for heavy-duty job, such as granite, marble, sandstone, refractory material, asphalt and concrete etc.
Only available in large size.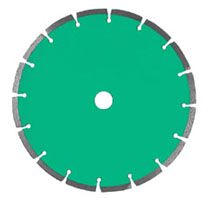 CAN BE USED: HIGH SPEED SAW, MASONRY SAW, CONCRETE SAW, TILE SAW, STONE SAW ,
Art. No.

Outer Diameter

Hole Diameter

Segment Dimension (mm)

Segment Number

Inch

Metric(mm)

Metric (mm)

Length

Thickness

Height

LCDI03030001

12"

300

25.4/22.23

40

3.2

8

20

LCDI03035002

14"

350

25.4/22.23

40

3.6

8

24

LCDI03040003

16"

400

25.4/22.23

40

4.0

8

28

LCDI03045004

18"

450

25.4/50

40

4.5

8

32

LCDI03050005

20"

500

25.4/50

40

5.0

8

36

LCDI03055006

22"

550

25.4/50

40

5.5

8

40

LCDI03060007

24"

600

25.4/50

40

5.5

8

42

LCDI03065008

26"

650

25.4/50

40

5.5

8

46

LCDI03070009

28"

700

50/80

40

5.5

8

50

LCDI03080010

32"

800

50/80

40

7.0

10

46

LCDI03090011

36"

900

50/80

40

7.0

10

64

LCDI03100012

40"

1000

50/80

40

7.6

10

70

LCDI03120013

48"

1200

50/80

40

8

10

80

LCDI03160014

64"

1600

100

40

8

10

108

LCDI03180015

72"

1800

100

40

10

12

118

LCDI03200016

80"

2000

100

40

10

14

128

LCDI03220017

88"

2200

100

40

12

14

132
| | | |
| --- | --- | --- |
| Remark: | 1. | Other specifications and sizes are available upon request. |
| | 2. | When ordering, please specify the materials to be cut. |