24.DIAMOND FILES ELECTRO-PLATED
电镀金刚石锉刀


Specifications:
Ni coated
Shape: flat, round, triangle, semi-round, square, etc.
Length: 4", 6", 8", 10"
ELECTROPLATED DIAMOND NEEDLE FILES

Diamond powder electrodeposited on the steel billet; suitable for the repair of carbide alloy,
quench mold and manual finishing on jade article ,glass, ceramic etc.
Different shapes and sizes available upon request.
Art. No.

Description

CRS. SECT

WIDTH (mm)

THICKNESS (mm)

HANDLE DIAMETER (mm)

working

surface

length

(mm)

overall

length (mm)

lcdi24dfFL03

Flat

5.4

1.2

3

50/70

140~160

lcdi24dfFL04

7.3

1.6

4

50/70

160~200

lcdi24dfFL05

9.2

2.0

5

50/70

180~200

lcdi24dfSE03

Semicircle

5.2

1.7

3

50/70

140~160

lcdi24dfSE04

6.9

2.2

4

50/70

160~200

lcdi24dfSE05

8.5

2.9

5

50/70

180~200

lcdi24dfSQ03

Square

2.6

2.6

3

50/70

140~160

lcdi24dfSQ04

3.4

3.4

4

50/70

160~200

lcdi24dfSQ05

4.2

4.2

5

50/70

180~200

lcdi24dfET03

equilateral

Triangle

3.6

3

50/70

140~160

lcdi24dfET04

4.8

4

50/70

160~200

lcdi24dfET05

6.0

5

50/70

180~200

lcdi24dfRO03

Round

D=2.9

3

50/70

140~160

lcdi24dfRO04

D=3.9

4

50/70

160~200

lcdi24dfRO05

D=4.9

5

50/70

180~200

lcdi24dfST03

Sharp two Sides

5.4

1.2

3

50/70

140~160

lcdi24dfST04

7.3

1.6

4

50/70

160~200

lcdi24dfST05

9.2

2.0

5

50/70

180~200

lcdi24dfKN03

Knife

5.4

1.7/0.6

3

50/70

140~160

lcdi24dfKN04

7.0

2.3/0.8

4

50/70

160~200

lcdi24dfKN05

8.7

3/1

5

50/70

180~200

lcdi24dfTO03

Triangle One side

5.5

1.9

3

50/70

140~160

lcdi24dfTO04

7.1

2.7

4

50/70

160~200

lcdi24dfTO05

8.7

3.4

5

50/70

180~200

lcdi24dfRE03

Round-edge Flat file

5.0

1.8

3

50/70

140~160

lcdi24dfRE04

6.3

2.5

4

50/70

160~200

lcdi24dfRE05

7.8

3.4

5

50/70

180~200

lcdi24dfOF03

Oval file

3.4

2.4

3

50/70

140~160

lcdi24dfOF04

4.4

3.4

4

50/70

160~200

lcdi24dfOF05

5.4

4.3

5

50/70

180~200
| | | | |
| --- | --- | --- | --- |
| | LCDI24DF5001 | | LCDI24DF1001 |
| | 5 pcs set in punch | | 10 pcs set in blister card |
| |   | | |
DIAMOND SUPERB THINNEST & EXQUISITE ELASTICITY FLAT FILES
金刚石高弹力超薄型扁锉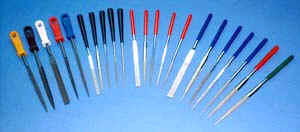 | | | | | | | |
| --- | --- | --- | --- | --- | --- | --- |
| Art. No. | | | Packing Specifications (carton) | | | |
| LCDI24314001 | | | | | | |
| LCDI24416002 | | | | | | |
| LCDI24518003 | | | | | | |
10 PCS INCLUDED DIAMOND ANGLE COMBINATION FILE
10支组金刚石楔形组合锉
Art. No.

Specification

EDGE LENGTH
TOTAL LENGTH
HANDLE DIAMETER
EDGE THICKNESS
USD UNIT PRICE

LCDI24313001

3×130×40 10pcs

40
130
3
0.5
 

LCDI24518002

5

×180×50 12pcs

50
130
3
0.5
 
ELECTROPLATED DIAMOND FILES
电镀金刚石锉
Art. No.

Designation

Specification

Measure (cm)

Pcs / Case

LCDI24EDFL04

Flat

Flat 4''

33×28×22

500

LCDI24EDFL06

Flat 6''

40×36×10

200

LCDI24EDFL08

Flat 8''

50×42×14

200

LCDI24EDFL10

Flat 10''

32×24×8

100

LCDI24EDFL12

Flat 12''

32×28×8

100

LCDI24EDRO04

Round

Round 4''

33×28×22

500

LCDI24EDRO06

Round 6''

40×36×10

200

LCDI24EDRO08

Round 8''

50×42×14

200

LCDI24EDRO10

Round 10''

32×24×8

100

LCDI24EDRO12

Round 12''

32×28×8

100

LCDI24EDTR04

Triangle

Triangle 4''

33×28×22

500

LCDI24EDTR06

Triangle 6''

40×36×10

200

LCDI24EDTR08

Triangle 8''

50×42×14

200

LCDI24EDTR10

Triangle 10'

32×24×8

100

LCDI24EDTR12

Triangle 12'

32×28×8

100

LCDI24EDSE04

Semicircle

Semicircle 4'

33×28×22

500

LCDI24EDSE06

Semicircle 6'

40×36×10

200

LCDI24EDSE08

Semicircle 8'

50×42×14

200

LCDI24EDSE10

Semicircle 10''

32×24×8

100

LCDI24EDSE12

Semicircle 12''

32×28×8

100

LCDI24EDSQ04

Square

Square 4''

33×28×22

500

LCDI24EDSQ06

Square 6''

40×36×10

200

LCDI24EDSQ08

Square 8''

50×42×14

200

LCDI24EDSQ10

Square 10''

32×24×8

100

LCDI24EDSQ12

Square 12''

32×28×8

100