38. CYMBAL SHAPE GRINDING WHEEL
钹型砂轮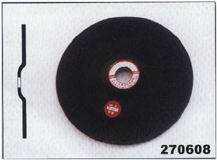 1.The common reinforced cutting wheels can be used of cutting or grooving of many different kinds of steel pipes, angle steel, channel steel and round steel. They are no doubt the indispensable tools for mechanical processing.
2.Reinforced cutting wheels are special cutting tools which can cut 18-32mm "V" high manganese steel and other harder section steels, showing high efficiency and reliability.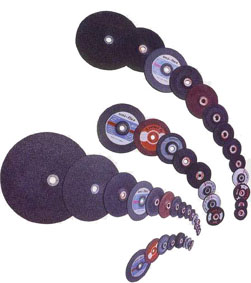 USAGE:
Install it in the angle grinder to grind freely. It is widely used to grind weld seam,
Welding spot, burnish casting burrs, flash, and to repair defect in metal surface in cars. ships,
mechanic manufacturing metallurgy, chemical industry and so on.
To improve the strength of emery wheels strength, we add a kind of resin twines in the wheels, and they have high tensile strength, shock strength and bending strength. Its speed can reach to 80m/s, and have the characteristics of high efficiency and safety.
They have been inserted metal rings in the inner holes besides fiber grid cloth which are made of special fiber reinforced composites. The following are wheels specifications:
ART. NO.

Out diameter x thickness x inner diameter

Outer packing

volume

MAX. SPEED

INCHES

METRIC

(mm)

PCS / ctn

GW

(Kg)

NW

(Kg)

Length x Width x Height

4300m/min

4800m/min

lcme38420601

4x1/8x5/8

100x3x16

400

22.5

22

42x22x23

13700R.P.M

15200R.P.M

lcme38270602

4x5/32x5/8

100x4x16

300

22.5

22

41.5x22x2

13700R.P.M

15200R.P.M

lcme38270603

4x3/16x5/8

100x5x16

250

22.5

22

40x22x23

13700R.P.M

15200R.P.M

lcme38270604

4x1/4x5/8

100x6x16

200

22.5

22

40x22x23

13700R.P.M

15200R.P.M

lcme38420605

41/2x1/8x7/8

115x3x22.2

200

13.5

13

40x25x13

11900R.P.M

13300R.P.M

lcme38270606

41/2x1/4x7/8

115x6x22.2

100

13.5

13

38x25x13

11900R.P.M

13300R.P.M

lcme38420607

5x1/8x7/8

125x3x22.2

200

17.5

17

40x27x14

11000R.P.M

12200R.P.M

lcme38270608

5x1/4x7/8

125x6x22.2

100

17.5

17

40x27x14

11000R.P.M

12200R.P.M

lcme38420609

6x1/8x7/8

150x3x22.2

200

23.5

23

40x32x17

9100R.P.M

10200R.P.M

lcme38270610

6x1/4x7/8

150x6x22.2

100

24.5

24

40x32x17

9100R.P.M

10200R.P.M

lcme38420611

7x1/8x7/8

180x3x22.2

200

32.5

32

40x20x38

7600R.P.M

8500R.P.M

lcme38270612

7x1/4x7/8

180x6x22.2

100

33.5

33

40x20x38

7600R.P.M

8500R.P.M

lcme38270613

7x5/6x7/8

180x8x22.2

80

33.5

33

40x20x38

7600R.P.M

8500R.P.M

lcme38420614

9x1/8x7/8

230x3x22.2

100

24.5

24

39x24x24

5950R.P.M

6640R.P.M

lcme38270615

9x1/4x7/8

230x6x22.2

50

25

24.5

39x24x24

5950R.P.M

6640R.P.M