42. DOUBLE-FACED REINFORCED STONE ABRASIVE CUT-OFF WHEEL
两面补强石材用切割片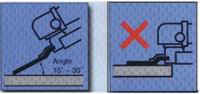 NOTE: the lapping wheel and angle grinding wheel should be kept in grinding angle for 15º - 30º when using.
| | |
| --- | --- |
| MATERIAL | USAGE |
| A30# | IT IS SUITABLE FOR GENERAL METAL, STEELS, STAINLESS STEEL, CAST-STEEL AND WELD SEAM |
| C30# | IT IS SUITABLE FOR STONE, CONCRETE ECT |
The above (White Horse cutting wheel) is suitable for stainless steel, all kinds of acid proof steels. There isn't iron, sulfur or halide etc. materials in it. Its products own long lifetime, widely usage.
Art. No.

Out diameter x

thickness x

inner diameter

Outer packing

volume

MAX. SPEED

INCHES

METRIC

(mm)

PCS / ctn

GW

(Kg)

NW

(Kg)

Length x Width x Height

4300m/min

4800m/min

LCME42421001

LCME42411001

4×1/8×5/8

100×3×16

400

25

24

42×22×23

13700R.P.M

15200R.P.M

LCME42421002

LCME42411002

4-1/2×1/8×7/8

115×3×22.2

200

14

13

42×25×13

11900R.P.M

13300R.P.M

LCME42421003

LCME42411003

5×1/8×7/8

125×3×22.2

200

18

17

42×27×14

11000R.P.M

12200R.P.M

LCME42421004

LCME42411004

6×1/8×7/8

150×3×22.2

200

25

24

42×32×17

9100R.P.M

10200R.P.M

LCME42421005

LCME42411005

7×1/8×7/8

180×3×22.2

200

34

33

44×20×38

7600R.P.M

8500R.P.M

LCME42421006

LCME42411006

9×1/8×7/8

230×3×22.2

100

32

31

44×24×24

5950R.P.M

6640R.P.M